If your girlfriend loves tricks, treats, costumes, ghosts, goblins, candy corn, and all things scary, then a Halloween marriage proposal may be perfect. But how do you incorporate your personal love story into a day that revolves around witches, skeletons, and Frankenstein (which is a love story all it's own)?
This article will help you navigate the haunted seas of trick-or-treating kids and blood-thirsty bats using Halloween marriage proposal ideas that she will love to death.
Should You Propose Marriage on Halloween?
Some women consider
Halloween
to be their favorite holiday. They wait all year to decorate their home in cobwebs and carve pumpkins until their hands turn orange. They love dressing up in an impressively crazy costume and attend a different costume party every weekend in October. And these women just can't get enough time munching on candy corn while browsing piles of gourds at local farmer stands. If this description sounds like the woman you love, then perhaps you should seriously consider placing an exclamation point on Halloween for her this year with a marriage proposal.
However, if your girlfriend cries at the thought of visiting a haunted house and has never understood why someone would stick a lit candle inside of a giant, orange fruit until it rots, then maybe you should rethink your plans for a Halloween proposal. And yes, a pumpkin is in fact a fruit!
Still lurching forward with your October 31st proposal plans faster than a black cat riding on a witch's broomstick? Great! Here are some Halloween marriage proposal ideas for you to consider incorporating into your proposal.
Halloween Candy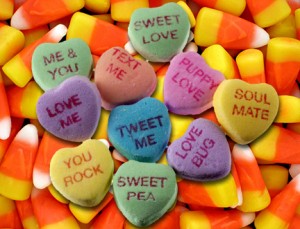 My favorite aspect of Halloween is the candy. What an incredible idea it was to visit house after house demanding candy for two hours, all while concealing your identity. It's practically a free pass to commit serial robberies.
Chocolates are a very popular candy to have on hand during a marriage proposal, but Halloween allows you to get creative with candy. You can spell "Marry Me" using hundreds of pieces of candy corn. Or you can overwhelm her with a year's supply of her favorite Halloween candy along with a note stating, "None of this candy is as sweet as you!" Have fun with how you incorporate Halloween candy into your proposal.
Perfect Marriage Proposal Candy
Ring Pops: A candy modeled after a giant diamond ring. What could be more fitting for a marriage proposal?
Sweethearts: Candy that speaks for itself. Be Mine. Love You. Kiss Me. It's all pre-printed for her to gobble up.
Candy Corn: A Halloween tradition with over 35 million pounds sold annually. Certain to add the Halloween factor to your proposal.
Candy is of course the later part of the phrase "trick or treat", but in a marriage proposal the treat is obvious. The treat is the engagement ring! Don't put too much emphasis on the candy gifts. The engagement ring should always be the star of the show.
Halloween Costumes
If you plan to surprise your partner on Halloween by proposing marriage, then use your Halloween costume to your advantage. There are two ways to do this:
Coordinate Costumes with the Theme of Your Proposal: Plan to wear coordinating costumes with your girlfriend, and choose a theme that can be translated into your marriage proposal. For example, a Maiden and a Knight in Shining Armor would work well. Your partner will believe you are simply enjoying Halloween together, but in fact your costumes will fit perfectly into the more elaborate marriage proposal that you have up your sleeve for later in the night.
Disguise Yourself in Costume: Choose a costume that covers your body and face, such as a gorilla suit, so that your partner will not recognize you. Develop some sort of heartfelt skit to perform for her, presenting her with a rose for example, before revealing your identity. Once the romantic gesture has been concluded, reveal your identity and proceed with your marriage proposal. Disguising yourself in costume works best in a public or social setting, as approaching your girlfriend in an unfamiliar costume while alone at home may cause a scary freak out.
Of course, you can always dress as Cupid and shoot her with your love potion arrow.
Jack-O'-Lanterns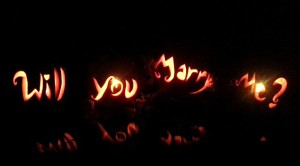 Pumpkin carving presents one of the best opportunities to plan and execute a creative marriage proposal. Carving the words "Will you marry me?" into a series of giant pumpkins for your girlfriend will be loving and fit perfectly into your Halloween marriage proposal theme.
You can even take the pumpkin carving one step further and carve a spot for the engagement ring to sit within the completed pumpkin sculpture in a way that allows the lit candle to glow behind the ring as it sits in the pumpkin.
If you're not a master pumpkin carver, but you want to have some amazing jack-o'-lanterns for your proposal, then check out the Pumpkin Gutter gallery of Scott Cummins for some serious inspiration. Scott does incredible pumpkin carvings, which are true sculptures. You can also get some pumpkin carving tips from Extreme Pumpkins.
Till Death Do Us Part
One of the darker traits of Halloween is its relationship with death and the after-life. While this may seem morbid and sad, it actually can be turned into a promissory part of your marriage proposal. Think about it, "till death do us part" is one of the most common and famous lines of marriage vows. Death is a part of life, as well as a part of love and marriage.
Now, I do not recommend dowsing your partner in buckets of fake blood and staging a funeral ceremony as your marriage proposal (although that may be absolutely perfect for you, no judgement). You can, however, incorporate bride and groom skeletons or love-sick vampires.
As with any marriage proposal, keep in mind what your partner will enjoy, and focus on her. Don't do something outlandish or Halloween based just to keep with the theme. Everything has to make sense, and it has to make your girlfriend feel the happiest she has ever felt!
A Creative Halloween Marriage Proposal Idea
Here is a creative Halloween marriage proposal idea in five easy steps that incorporates many traditional aspects of Halloween, but keeps the focus on love and the woman being proposed to.
Step 1: Arrange for your girlfriend and you to pass out candy together at your home on Halloween. Suggest that the candy you pass out be Ring Pops.
Step 2: Coordinate your costume with your girlfriend to be a King and a Queen (this will make sense after reading Step 5).
Step 3: Ask both your parents and her parents to ring your doorbell as trick-or-treaters at a pre-determined time. When you open the door, pull a real ring (the engagement ring) from the bowl of Ring Pops.
Step 4: Get down on bended knee, and as your parents watch, profess your love (incorporate a few Halloween puns into your speech), and then ask your girlfriend to marry you. After she says, "Yes!" and wipes the tears from her eyes, slip the ring onto her finger.
Step 5: Celebrate with your closest friends and family during a surprise costume Halloween party. You of course had arranged for them all to be dressed in various royal court costumes (jokers, jesters, maidens, knights, etc.), and to be at your house after the proposal.
Happy Halloween!
If you proposed on October 31st, what Halloween marriage proposal ideas do you have? Let us know in the comments.
---
Read the

Guys Guide to Proposing Marriage eBook

for more information about

creative marriage proposal ideas

.