Flash mob marriage proposals have become increasingly popular recently. Searching for flash mob proposal on YouTube results in hundreds of videos with millions of views each. If your goal for the proposal is thousands of views on YouTube, a flash mob proposal video may be perfect. The popular Jamin's Downtown Disney Flashmob Proposal video currently has nearly 8 million views. But, should you consider a flash mob proposal if you're not concerned with the publicity?
What is a Flash Mob Proposal?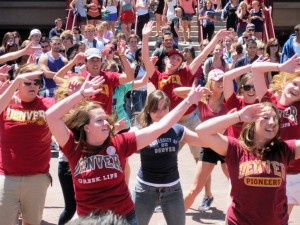 The flash mob proposal is a hybrid of proposals and flash mobs. I'm going to assume that you already understand what a proposal is, and if not you should read this guide to proposing eBook. Flash mobs, on the other hand, are a relatively new phenomenon. In simplest terms, a flash mob is an event that brings together a group of people, often strangers, in a public place for a short period of time to perform a specific act. The acts performed can be anything from a choreographed dance to a pillow fight. These flash mobs are often organized using social media or other telecommunications. Visit the flash mob Wikipedia page for a full history of flash mobs.
Because flash mobs are very public performances that draw lots of attention, they have quickly become a popular form of proposing marriage. Often times a man will orchestrate a flash mob to unfold while his unsuspecting girlfriend watches in awe. As the performance progresses, the girlfriend realizes that the performance is actually meant for her, and perhaps her boyfriend is even involved in the flash mob. Immediately following the conclusion of the flash mob, the propoosal itself takes place, followed by tears from the girlfriend and applause from the on-looking crowd.
Planning a Flash Mob Proposal
If you are planning a flash mob for your proposal, there are several important things to consider. Most importantly, think about how your girlfriend will react to such a public proposal. Done right, a flash mob proposal will cause everyone around to stop and stare. If your girlfriend is a private person, this type of attention may make her feel uncomfortable or anxious. These are not feelings you want her to have during the proposal. If you feel your girlfriend may prefer a more understated, intimate proposal, then a flash mob proposal may not be your best choice.
Another consideration for flash mob proposals is the amount of effort that will need to be put into the planning. Involving lots of people and depending on them to execute your proposal can be very risky. There is always the chance that not enough people show up for the flash mob to work properly. If involving friends and family, you also run the risk of your girlfriend finding out about the proposal ahead of time, which would ruin the element of surprise (one of the 7 elements of a memorable marriage proposal).
If you're set on a flash mob proposal, your mission is to orchestrate a public spectacle that will astonish and entertain your girlfriend, ideally incorporating a level of personalization for her (another element of a memorable marriage proposal). Be sure to plan all details of the performance, including date, time, location, music, instructions for participants, and how to get your girlfriend involved without revealing the proposal.
Video of Flash Mob Marriage Proposals
An aspect of the flash mob proposal that I highly recommend planning for is videography. Having a video of the entire flash mob proposal is a must. This proposal will be something that will keep everyone talking for years, and you will want to be able to share the video with friends and family later on. Whether you plan to post your proposal video on YouTube or not, having video of the grand gesture you create will be very important to you.
My Favorite Flash Mob Proposal Videos
If you are planning a flash mob marriage proposal, what strategies are you using?
If you've already proposed, did you involve family and friends? Let us know in the comments.
---
Read the

Guys Guide to Proposing Marriage eBook

for more

creative proposal ideas

.