Never buy her a dozen red roses ever again. Ever! Why? Because you're better than that. You're more creative than that. You love her more than the cheesy actor on the 1-800-FLOWERS commercial who thinks he is the most clever man ever for buying his girlfriend the most cliche gift ever.
Why Should You Not Buy Her Roses?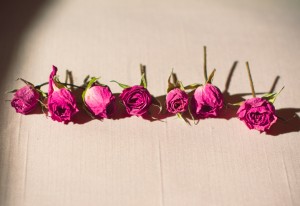 Don't get me wrong, when you present her with a dozen store-bought red roses or you order flowers online, she will be happy. She will smile. She may even hug and kiss you, but her inner monologue will go something like this, "Oh Honey, you care about me enough to buy me something special… but you don't care about me enough to think for yourself about what I really like as an individual." That is not the message you want to be sent to the woman you love when you buy gifts for her.
What Should You Give Her Instead of Roses?
If red roses are not an ideal engagement gift, then what do you give her instead? Anything! This is the woman you love, and the woman you may likely spend the rest of your life with. Think about the unique person that she is and what she truly enjoys. Taylor your gift to her. Be thoughtful and creative. Create personalized gifts for her that you will be excited to surprise her with.
Alternative Gifts to Red Roses
An Experience: Material gifts are good but experiences are great. Couples massages, yoga classes, art workshops, and dancing lessons are all activities that you can do together. She will appreciate both the thoughtfulness that you put into the gift, as well as your willingness to try something new.
A Poem You Wrote: Not every man is confident enough to convey his heart through rhyming words, but if you are brave enough I highly recommend it. I challenge you to put your feelings down on paper using your own handwriting, and frame the original poem in a small photo frame. She will be touched that she inspires you to be so loving, and your words will mean a lot to her. This may be one of the most romantic gifts for her.
A Framed or Canvas Photo of You and Her: Photographs are memories. Some photos instill happy thoughts from moments past, reminding her of the good times you have shared. Use a service such as Easy Canvas Prints to have a large print made that you can present to her. She will melt when she sees that you share in her happy memories of your life together.
Red roses are beautiful, but they lack personal meaning as a gift to your girlfriend. Get creative and think of a gift that she will cry tears of joy over. Leave the cliche gifts for the commercials and the movies. Don't even get me started on the heart teddy-bear to go along with the red roses…
She may love roses or she may hate them, but what do you think about giving red roses to your girlfriend? Let us know in the comments.
---
Read the

Guys Guide to Proposing Marriage eBook

for more information about

engagement gifts

.