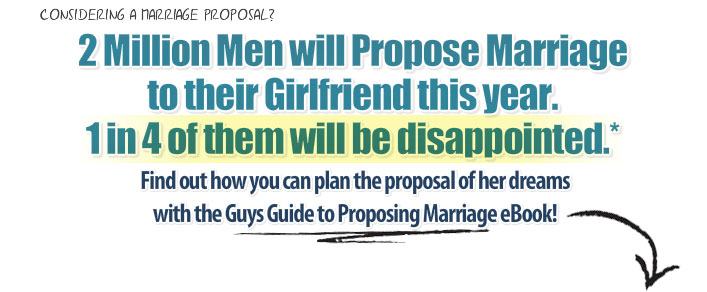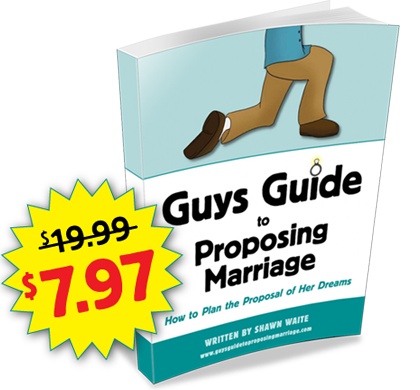 With the Guys Guide to Proposing Marriage eBook, you will:
Understand the 7 Elements of a Memorable Marriage Proposal, and how to use them.
Determine if you are ready for marriage and if she is "The One".
Avoid the 7 Biggest Proposal Mistakes.
Understand how much to spend on an engagement ring.
Generate proposal ideas, including where to propose.
Know how to write a meaningful proposal speech.
Be confident asking for her father's blessing.
Know what to expect after the proposal.
Plan the proposal that will make her happier than she has ever been.
Be confident that following your proposal you will hear the word "YES!"
When I planned my proposal a few years ago, I felt overwhelmed by all of the details. What makes a good engagement ring?  How should I approach her father for his blessing?  What will be the most meaningful proposal for her?  I wished I had been given a book to reference at every stage of the process, which is exactly why I wrote the Guys Guide to Proposing Marriage.
The Guys Guide to Proposing Marriage offers more than 45 pages of information, including:


Real proposal stories from men who have been in your shoes.
An engagement ring buyer's guide.
Tips for keeping the proposal a surprise.
Specific details about writing your speech.
Advice on how to share the news after the proposal.
Much, much more…
By purchasing the Guys Guide to Proposing Marriage eBook today, you can be confident that you are considering all that needs to go into your proposal.  And most importantly, you will be learning how to deliver the proposal of her dreams.
Click below to instantly download your copy of the Guys Guide to Proposing Marriage eBook in PDF format. You can view this eBook on your computer, iPad, iPhone, Android, or many other digital devices.
FREE SHIPPING (instant download) FREE SHIPPING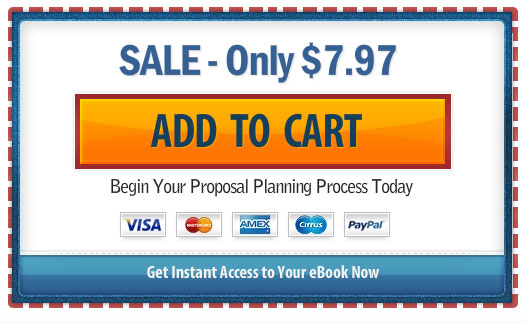 I am confident that the Guys Guide to Proposing Marriage will help you plan and execute your proposal.  If after reading the book you are not 100% satisfied, please let me know.  Not only will you receive a full refund, but I will also offer any help that I can to your proposal planning.
*Data sourced from a 2011 survey by TheKnot.com that reported 1 in 4 women were disappointed by their marriage proposal.