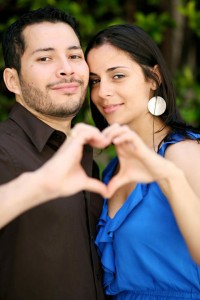 This article is by Michele Velazquez, founder and co-owner of The Heart Bandits, a Proposal Planning company. Michele is known around the globe as a Proposal Expert and has been interviewed and featured in New York Magazine, New York Times, NBC, and much more. Having planned hundreds of proposals for men around the world, she knows just what it takes to give you the perfect proposal.
Being a Proposal Planner and having planned hundreds of marriage proposals, I can say with confidence that I know what a girl wants in her proposal. Today I am going to give you a leg up on all the rest of the men in the world and share my insider knowledge with you. Here are 10 proposal aspects that every girl wants.

1. Get Help
No seriously, we want you to get help. During the proposal planning process is not the time to be proud and refuse help from anyone. The day you propose is the day your girlfriend has been dreaming of her whole life so ask for help! Hire a Professional Planner to be a part of your team and ensure the proposal is executed flawlessly. If a Proposal Planner is not in your budget, put together a team of people you can trust.
2. Make It Special
You don't necessarily have to break the bank on the proposal, but we don't want it to look like you spent $5 on it and threw it together over night. As I always tell my clients, you can upgrade a diamond but you can never change a memory. Make a budget for your proposal and make it special.
3. Make It Personalized
This is probably the most important tip I can give. No girl wants to be proposed to in a way that has nothing to do with her or her relationship with you. When you create your proposal idea, think about things that were significant in your relationship and figure out a way to incorporate those.
4. Make It Unique
"How did he propose?" is one of the first questions she will be asked when she announces her engagement. She doesn't want to have to tell her proposal story if it's the same proposal story as a million other girls. She wants something that is unique, something that she won't mind telling over and over for the rest of her life. Because trust me, she will.
5. Surprise Us
Sure we likely know that a proposal is coming, but that doesn't mean you can't surprise us. Even if you have talked to your girlfriend about what kind of ring she likes, she still has no idea how you will propose. Make it a surprise.
6. Be Sure It Suits Our Personality
If your girlfriend is shy and cringes at the thought of being the center of attention, then giving her a Flash Mob proposal is an epic fail! Likewise, if your girlfriend is an extrovert and you propose to her at home on the couch, she may feel disappointed. Only you know your girlfriend's personality so make sure the proposal is fitting.
7. Think It Through
I work with men about to propose everyday and I have learned one thing that they all have in common. Once they get the engagement ring they feel the need to want to propose immediately even if they don't have a proposal idea thought through yet. Take a deep breath, hold your horses, and come up with the perfect proposal idea. Don't just throw something together last minute or propose over stew because you couldn't be patient.
8. Plan It Perfectly
You are going to want to make sure you have thought about all logistics regarding your proposal. Do you need a permit? Do you need event insurance? What will you do if it rains? These are all reasons to hire a Proposal Planner. That way they can stress about the details and you won't have to.
9. Make Us Proud
Whether you make a crazy, over-the-top proposal or a cozy, intimate proposal, we just want you to make us proud. Show us that you GET us and that you have been listening. Give us a proposal we are proud to tell our children about.
10. Photograph It
If hiring a Proposal Photographer isn't in your budget, have a friend take pictures. In a world where Social Media rules, we want to share a photo of our engagement with our friends.
Which aspect is most important in your proposal? Let us know in the comments.
---
Read the Guys Guide to Proposing Marriage eBook for more information about planning a personalized marriage proposal.
---